Getting your website hacked is already super stressful and getting it clean is imperative. What adds to injury is the fact very often the website in question will also be blacklisted.
Why do websites get blacklisted?
The reason for the website to be blacklisted is really simple – the website was hacked. Website owners quite often aren't even aware they have been hacked and the first red flag that something is happening is the website getting blacklisted.
Blacklists are formed and websites are listed there to warn innocent visitors and other participants of the internet that they are in danger if they visit the website in question. They are there for a good reason, but that is why website owners feel additionally violated when their website pops up on such lists.
How to check if the website was blacklisted?
The first challenge in checking a website's blacklist status is the fact there are so many blacklists and being included in just one is already a major problem. Thus, checking it on the website VirustTotal is an excellent first step. This website is an aggregation of over 70 virus scanners and provides an amazing insight into your website's reputation.
To have in mind though (as with most things on the internet), the information provided is not instant. One should first make sure that when checking a website with VirusTotal they pull the most recent blacklists status. Often when you perform a scan the information will be quite old so make sure to refresh the page:
The second thing to have in mind is that even after the refresh, the data here could still be old(ish). The aggregate does not collect data from other blacklists in real-time so they might still have wrong information about the website. Your website might even get listed here after it has been cleaned simply because of the delay in updating various blacklist databases. But rest assured, if the website is clean, all of these will get cleared within a week or two.
Google blacklisted my website
Possibly the worst-case scenario for a hacked website is getting blacklisted by Google. Google will, in this case, depending on the severity of the situation place a warning about your website either in their search results next to your website data or display a red screen with a warning when someone tries to open the website in their browser.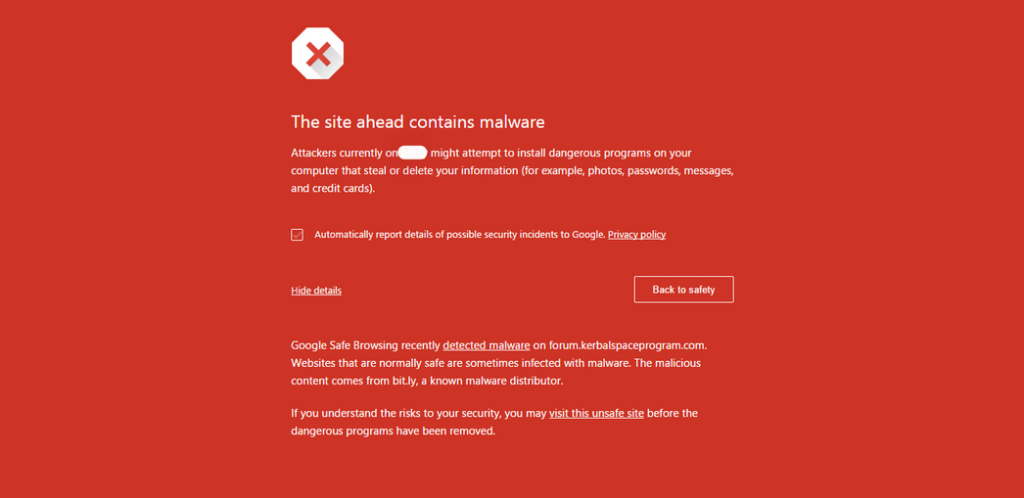 In this case, it is mandatory to check in your website's Search Console what is Google listing as a problem under Security & Manual Actions tab and once the website is clean, inform them that you have taken necessary actions.
Still not sure if your website is hacked or blacklisted – reach out to our team and get a free scan of your website!
We Can Help Save Your Business
SITE FIXED IN LESS THAN 1 HOUR
WordPress website defaced ? If we don't fix a defaced website in less than 1 hour then we do it for FREE!. Luckily for us we are very good at fixing sites fast!