1000's of sites cleaned by OneHourSiteFix are currently protected by the SharkGate firewall to stop them from being hacked again. Our Cybersecurity team are now proud to announce the latest version of the SharkGate firewall which we believe to be possibly the best hacker protection for websites in the World.
Here's the lowdown explaining what is the SharkGate firewall 'Hacker Protection' for websites and how it just got even better !
What is SharkGate ?
Once we have cleaned a site we want to keep it that way, so we use the best security in the business to protect them from hackers and malware, we use the SharkGate firewall.
The SharkGate firewall is your website gatekeeper preventing hackers from accessing a website. Imagine if a website was a nightclub, then the SharkGate firewall would be the friendly but firm doorman. He would welcome all those clubbers you want to let in and politely turn away those intent on causing mayhem – the sharks as we call them. SharkGate website protection ensures that all legitimate visitors to a website gain instant access, but the hackers are blocked and stopped from sabotaging businesses.
Why Upgrade? - It's a feeding frenzy out there! We needed a bigger boat
With an estimated 2 billion websites on the internet and around 20,000,000 (1%) of these are infected with malware, the hackers are currently running amok and the cybercrime damage costs are staggering – It's a Feeding Frenzy Out There
Our existing firewall has blocked millions of attacks over the past year but with cyber attacks increasing at an exponential rate worldwide, we released 'we're gonna need a bigger boat'. That is why we are so proud to be releasing the new version of SharkGate that doesn't just keep us one step ahead of the competition – it keeps your protection one step ahead of the hackers. See below for some of the major updates we just rolled out.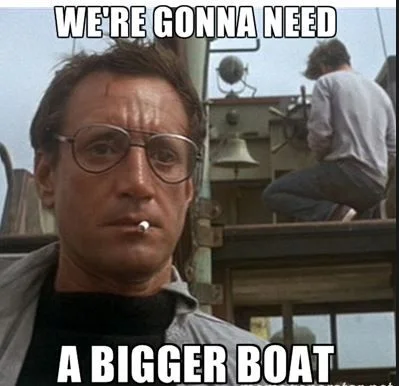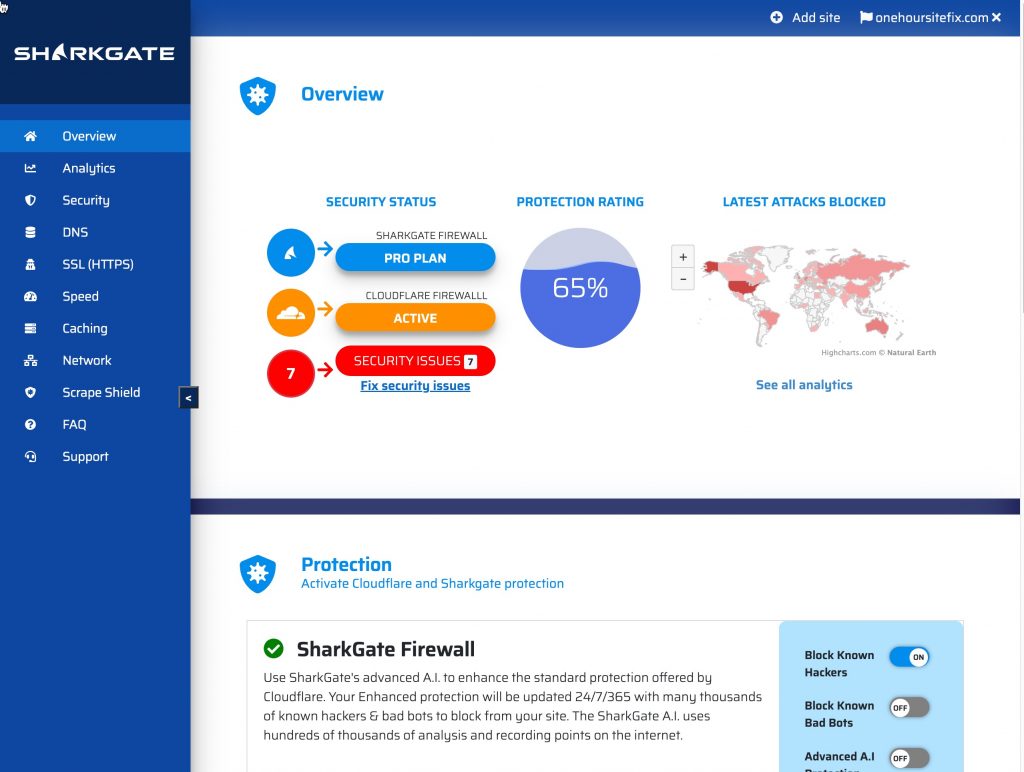 Upgrade: Intuitive, easy to use Security Dashboard For Your Modern Security Perimeter
We have completely upgraded the SharkGate dashboard. Your business is using a best of breed 'firewall-as-a-service' and the whole of your security can be managed from a single console. See the attacks blocked on your site and adjust your security/performance settings with an easy to use intuitive dashboard. By making SharkGate your enterprise security perimeter and using the SharkGate dashboard to monitor, you gain a modern application security posture for your business.
Upgrade: AI powered security & recommendations
The SharkGate dashboard analyses your site's security and performance on the firewall. It uses Artificial Intelligence and machine learning to provide security and performance recommendations all based on your site's traffic and setup. But there's more! It doesn't just recommend changes, with a simple click to approve it can make the adjustments for you.
Let the SharkGate dashboard do all the hard work for you in securing and speeding up your site – so you can focus on your business instead of having to become a cyber security expert.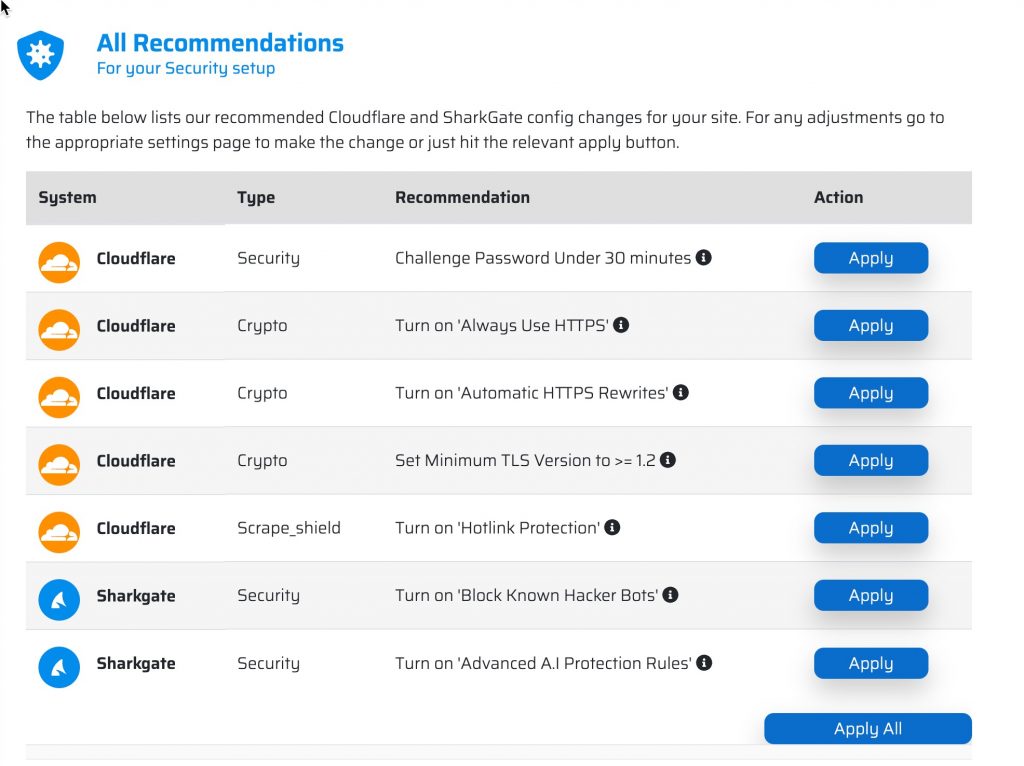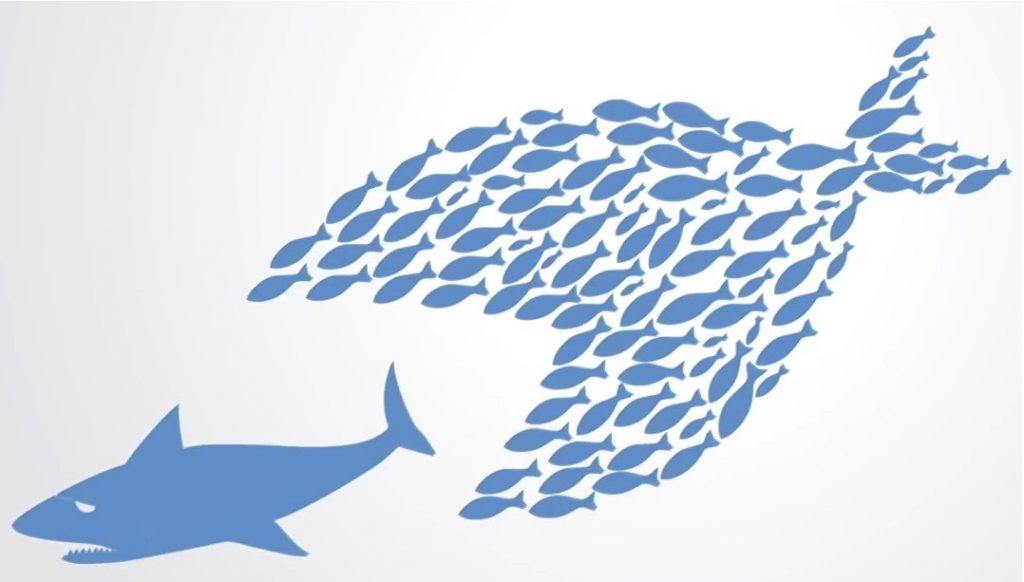 Upgrade: Websites working together against the hackers
SharkGate provides a solution that does not depend on one solitary party, but instead on a network of websites that all share in the evolution of the firewall. All the websites behind SharkGate's protection work together in mutual self-interest to fight back against the hackers. The new SharkGate firewall uses advanced A.I techniques, where an attack on one site in the network creates immunity for all other sites worldwide. the firewall actually uses the power of the hacker's own attacks against themselves.
Upgrade: A lightning fast website !
Often security comes at a price in terms of slowing down your website! It is a common problem inherent in the design of all the other current firewalls. That is until the new and improved SharkGate!
With the latest SharkGate upgrade we went back to the drawing board creating a whole new model of website protection whilst ensuring all security induced latencies are eliminated. On top of this, the SharkGate firewall has built-in performance services to speed up a website.
We know seeing is believing, so we look forward to you trying the new SharkGate firewall and being amazed at how fast your site is now running. Our test has shown that the speed increases can be as dramatic as up to 70% faster page load times!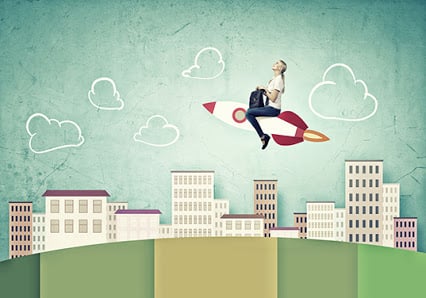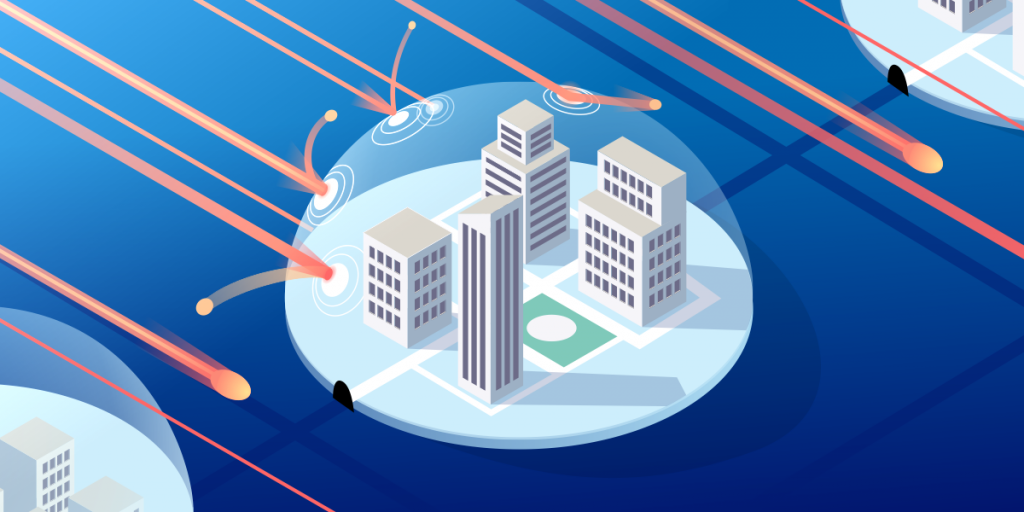 Upgrade: World leading DDoS protection
We leverage the best services in the industry for distributed denial of service protection (DDoS).  All websites using the SharkGate firewall are shielded by over 100 Tbps of DDoS protection.
Upgrade: Our Infrastructure - Standing on the Shoulders of Giants
Ensuring the availability of your Internet properties is just as important as protecting them from malicious requests. We leverage the massive edge network of the biggest names on the internet to run our service. This means that instead of relying on only a handful of servers, you now have thousands of machines worldwide making sure that visitors can reach your content.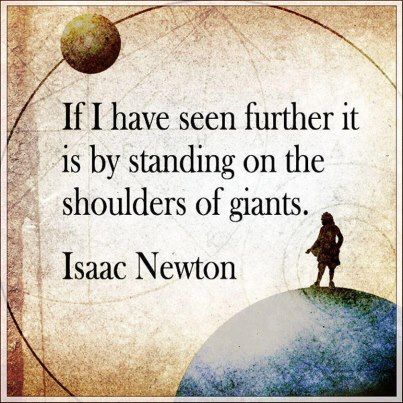 So ready to try the latest SharkGate firewall ? Good. Then see below for the simple steps to get your site behind the best hacker protection around…
Existing Customers
If you are a website currently protected by SharkGate, our team will over the next few days contact you to start your FREE upgrade process. The good news is that the move is really simple, super quick and our team will help you with every step of the process
Haven't been contacted yet, and want it now?
A wise choice for wanting your website behind the latest and greatest firewall right now. Please just use that chatbox on this page and let a support member know and they will start the process immediately for you.

New Customers - Not Yet Signed Up ?
Any site coming to us and signing up for one of our packages will automatically be placed onto the new SharkGate firewall. New customers can rest assured that as well as a website that is clean of all malware, they will have security in place to protect their business from hackers in the future.
If you have not already signed up for our website protection, your business is taking a big risk! No business big or small should have its website hacked. To keep your website safe – and for peace of mind – take a look at how we can provide robust, ongoing protection.
We Can Help Save Your Business
SITE FIXED IN LESS THAN 1 HOUR
WordPress website defaced ? If we don't fix a defaced website in less than 1 hour then we do it for FREE!. Luckily for us we are very good at fixing sites fast!