As a shop window for current and prospective clients, a firm's website is one of the most valuable marketing and communication assets yet can be the most vulnerable.

The Department for Digital, Culture, Media and Sport's 'Cyber security breaches survey 2018' report showed website related attacks remained in the top three most commonly reported breaches – whether that's others impersonating an organisation in emails or online, viruses, or spyware and malware.
Understand website hacking
SharkGate (the company that provides the OneHourSiteFix service) for The Law Society put together a whitepaper that examines the potential vulnerabilities of websites: the types of a hack, signs that a site has been hacked, and their impact. It also suggests practical ways in which to reduce the likelihood of and to mitigate attacks. Download website hacking whitepaper (PDF 622kb)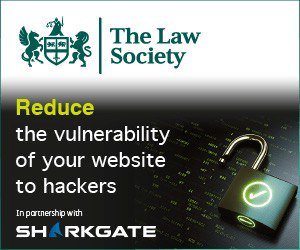 Protect your website now
In partnership with The Law Society, SharkGate and our OneHourSiteFix service offer a free and detailed website security scan to all Law Society members. Law Society members can get a scan anytime 24/7 to understand the vulnerabilities of the business website and receive exclusive discounts on our website fix services. Please see this page on the Law Society website for the full details.
We Can Help Save Your Business
SITE FIXED IN LESS THAN 1 HOUR
WordPress website defaced ? If we don't fix a defaced website in less than 1 hour then we do it for FREE!. Luckily for us we are very good at fixing sites fast!